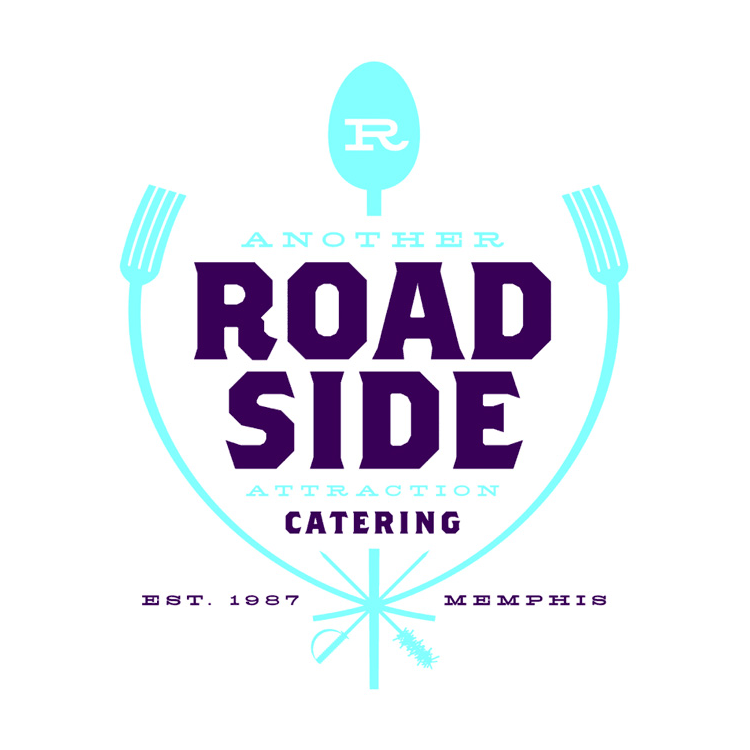 About
Another Roadside
Attraction Catering
We do what we love and love what we do.
Here at Another Roadside Attraction Catering, we love to experiment, as Food is our passion but creativity is at our heart.
We know that any event that you are planning has to represent your brand message from the minute the event begins to the last "thank you for coming."  We are your partner to ensure that t his happens and happens smoothly.  Consider us an extension of your family.
Our Venue
The Mollie Fontaine Taylor House was built in 1886 in the Eclectic Revival style, when wealthy Memphian's crafted exquisite homes, namely on Adams Avenue, which became kn own as Millionaire's Row and later as Victorian Village.
Most of the homes are now gone, but several still stand as stately reminders of the past, serving as museums and lovely venues for weddings and private parties.
But from one, the sounds of life and music emanate every night as patrons filter in for cocktails, fine cuisine and conversation at The Mollie Fontaine Lounge.
With an interior that has to be seen to be believed, the home is available for private functions such as weddings, rehearsal dinners, Corporate events, anniversary and bi rthday celebrations.
Services
We will listen to your wants and needs and hold your hand from beginning to end
We will create a fantastic memorable event based on your wildest imagination
We will work at your home, office, event space, garage or closet, depending on your needs
We will plan your menus based on your tastes, budget, and dietary needs
We will provide professional, accommodating and a happy staff to procure your every whim
We will dress in theme costumes, wear wigs, togas, grass skirts, french maid couture or play Cinderella while we mop, sweep and leave your space pristine – all the while wearing a smile
We will absolutely deliver the most scrumptious, delicious and beautiful display of food your eyes and stomachs have experienced
Event
Planning
We have catered and planned events for:

Cocktail Parties from 20 to 20,000

Seated Dinners

Breakfast in bed for two

Corporate Parties
Fundraisers
Weddings
Bar and Bat Mitzvahs

Museum Openings and Hotel Openings

T.V. Commercial Shoots

Major Motion Pictures

Personal Chef (yes, we cooked for Tom Cruise, Susan Sarandon, Francis Ford Coppola and Sydney Pollack to name a few...)

Book Signings

..And the list goes on and on and on……

Who
we are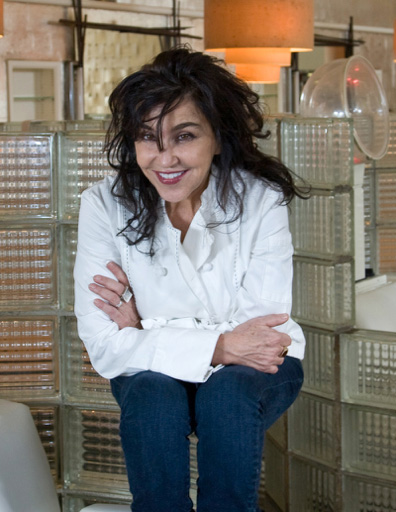 Karen Blockman Carrier
Owner / Executive Chef
Karen Blockman Carrier has been a personal chef to such Hollywood big
shots as Tom Cruise and Susan Sarandon. But in Memphis this chef is a
bona fide celebrity in her own right – she's on so many magazine covers,
you'd think she was promoting her latest blockbuster.
The way to Memphis' heart is through its stomach, and Carrier's innovative restaurants and one-of-a-kind cooking style is what makes her a star.
Like a surprisingnumber of contemporary chefs, Carrier began her working life as an artist.She earned her BFA in painting from The Memphis Academy of Art andwhile working on her MFA in NYC she had a chance encounter in therestroom of The Lone Star Café.  A struggling art student mentioned herlove of cooking and lack of money. The other woman, one of New York'stop chefs, was in need of help.  The two exchanged names, the studentpromised to start work the next day and Karen Carrier never returned tograduate school.
In 1986 Carrier opened Automatic Slims "One Bar Under a Groove";a Memphis meets Manhattan Juke Joint in Greenwich Village. Like all goodSoutherners, she eventually returned home to Memphis to start a familyand plant the seeds for a restaurant empire.Another Roadside Attraction Catering was her first southern venture,followed by Automatic Slims Tonga Club in Downtown Memphis,(Carrier sold this restaurant after 17 years in 2008), The Beauty Shop Restaurant+ Lounge, do Sushi + Noodles and her latest addition -The Mollie Fontaine Lounge. When Carrier opened her first Memphis restaurantit brought a breath of big city eccentricity and sophistication to Downtown Memphis. Herrestaurants quickly made inroads into the city's appetites with her ambitious cooking combiningbig Southern and international flavors. It's what Food and Wine Magazine described as "in yourface cooking; imaginative and full of surprises".
Karen Blockman Carrier; from art student to artist, prep cook to chef; designer to restauranteur -has been creating in different mediums for over 25 years. In all endeavors this chef, entrepreneur,generates art and innovation. Though a nice Jewish girl who was raised on kosher food, her culinaryinfluences are far removed from brisket and matzo ball soup.
Dana Baldwin
General Manager / Chef
Thirty years ago Dana Baldwin made a road trip to Memphis from New
York City to see Graceland, fell in love and never left. Dana was introduced
to Karen Carrier by mutual friends and began her career with Another Roadside Attraction in 1988.
Dana's food background started in 3rd grade when she used to play restaurant with her friends. She played the part of hostess, waitress and cook, serving Campbell's soup and frozen pizza to her much adoring audience.
Her love of the restaurant businesscame from watching her father tirelessly open and run restaurantsthroughout NYC.Dana started as a server with Another Roadside Attraction, then advancedto Kitchen Manager, Chef and General Manager. In 1991 Dana went withCarrier to open Automatic Slim's. Pregnant with twins, Dana returnedto Another Roadside Attraction later that year and took the reigns.
Dana is the Heart and Soul of Another Roadside Attraction.Her attention to detail, ability to listen to a clients needs, creativelicense and keeping a cool head has kept Dana at the top of her game.
Clients
University of Tenn. Medical
Nexair
St. Jude Childrens Hospital
Justin Timberlake
Lebonheur Children's Hospital
Monsters of Rock Concert
Fed ExLive Aid – Philadelphia, Pa
American Cancer Society
Ballet Memphis
Memphis College of Art
Rhodes College
Arts Memphis
Stax Museum of American Music
Brooks Museum of Art
Dixon Garden and Gallery
Sedgwick CMS
Mississippi Museum of Art
Mempho Music Festival
Anthropologie
Urban Outfitters
The Blues Ball
Southern Food Alliance
Chef John Currence' wedding
Alluvian Hotel
B.B. King Blues Museum
Auto Zone
The Peabody Hotel
David Lusk Gallery
Hyde Foundation
Service Master
The Vergos Family
Hyde Foundation
Henry and Lynn Turley
Crosstown Arts Group
NARAS
National Ornamental Metals Museum
Blues Foundation
Epicenter
Plough Foundation
National Preservation Institute
Bluff City Law NBC TV
Baker Donelson Law Firm
Bridges
First Horizon Bank
Fleming Architects
Leo Events
Raymond James
Tennessee Bar Association
Louisiana Bar Association
Child Advocacy Center
Relay Graduate School
Radian
Memphis Made Beer
Wiseacre Beer
Valero
Glankler Brown Law Firm
Accolades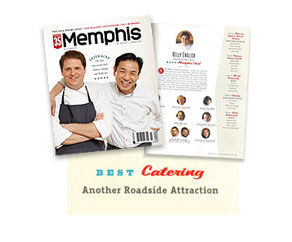 VOTED BEST CATERERMEMPHIS MAGAZINE 1994-2012
"As a consultant, it is imperative that I recommend onlythe best resources to my clients. Your catering service made my clienthappy and made a lasting impression on their guests… I will definitelyuse your services again in the future"
Beth Okeon, abo Consulting
"You were a pleasure to work with, never faltering through the changes andquestions of a nervous client"
Lisa Bishop
"Karen and Dana, you two and your staff are the ultimate professionals.One could not ask for a better meal."
Sumner Levine, Southern Jewish Historical Society
"You were great to work with- you always made me feel confident andas though it all would be a "piece of cake" - which I knew it wasn't!"
Sallie Dillingham
"The food far surpassed my expectations while the spread looked exquisite."
Richard Banks, Memphis Magazine
"You are truly professionals and perfectionists."
Kathy Aicher, WMC TV 5
"Our weekend was magical and you were such an important part of it"
Sheril and Micah
"The menu was inventive, the food was delicious and the wait staff fantastic.Your help with the florals was invaluable. My only regret is that you cannotbe in every city that we visit."
John Walker, Nations Bank
"There were rave reviews from our guests and employees about every foodstation, as well as the service, clean-up, etc. ... P.S. Wow! You didit again!"
Bob Chandler, Chandler, Erlich & Co.